Inspiration FM is supported by,
Northampton Borough Council
Sonic 5
JCA Public Relations
BBC Radio Northampton 104.2 & 103.6 FM
Msaada
Martin Ariel & Jared
The National Lottery
Northamptonshire County Council
West Northamptonshire Development Corporation
Just one portion of what we
are famous for... and there's more !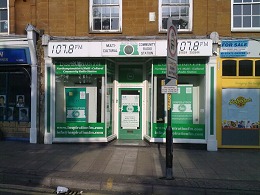 Inspiration FM is located in Northampton town centre, near the market square at the rear of the bus station. See the on-line map for directions.
Station Coordinator: Jenny Campbell
Radio Production and Training: Mark Dean
Inspiration FM Community Radio
20 Sheep Street
Northampton
NN1 2LU
Tel: 01604 250544
Fax: 01604 250573
Enquiries: info@...pirationfm.com
Studio: studio@...pirationfm.com
Website: webmaster@...pirationfm.com
The provisional Inspiration FM Steering Management Committee consists
of the following unpaid volunteers in the stated positions.
Mark Dean - Station Manager/Controller
Jenny Campbell - Finance and Operational Activities
David Lewis - Community Involvement
John Gonsalves BSC, MSC. - IT Infrastructure
Collin Maxwell - IT Infrastructure
Guy Williams - Fundraising
David Williams - Station Technician
Tyrone Dean - Youth Engagement
Chrespo Campbell - Youth Engagement
Stephen Brown - Volunteer Recruitment
About Inspiration FM Radio
We Intend to launch this July !

Styles of Music to played on the station will include Chart, Dance, RnB, Classics Sounds, Reggae, Gospel 60's, 70's, 80's, 90's right up to date. Traditional Asian/Punjabi African Mixtures, African Caribbean, Northern Soul, Jazz, Drum & Bass, House, Garage, Soca, RnB, Bhangra, Hip Hop, Dancehall, Ambient, Local Bands & Music, Country, Rock, Urban

Comments from our friends:

Angelina Browne-Akinyemi says

" ABOUT TIME AS THEY ALL WELL D MAIN 1s HAVE BEEN DOING IT IN THEIR EARLY 20s AND IT ALL STARTD ON HERVY ST IN MA GMA'S YARD!!!LOOOL!!! "

Angelina is Steve Brown's ( BnB) niece

Mick Fraser says:
"I Had some great times listening to them all back in the early days and have had some great times myself presenting on I.F.M "

Kerry Haddon says:
"finally!!!! congrats you guys for getting a permanent licence. looking forward to july!! x "

K Lady K Young says:
" yeh yeh...cant wait for IFM to come back on!! hope i get a show again! lol... :) "

Ejima Twinklestar says:
"Thank God we are here our instinct tells us to be inspired by joining inspiration fm for the promotion of our music...God bless you all!!!!"
If you feel you would like to make a comment on any blog, just click the envelope icon, thanks Jezza